BEAR SELF PRESERVATION SYSTEMS
GROWTH THROUGH CONFIDENCE & CONFIDENCE THROUGH EXPERIENCE!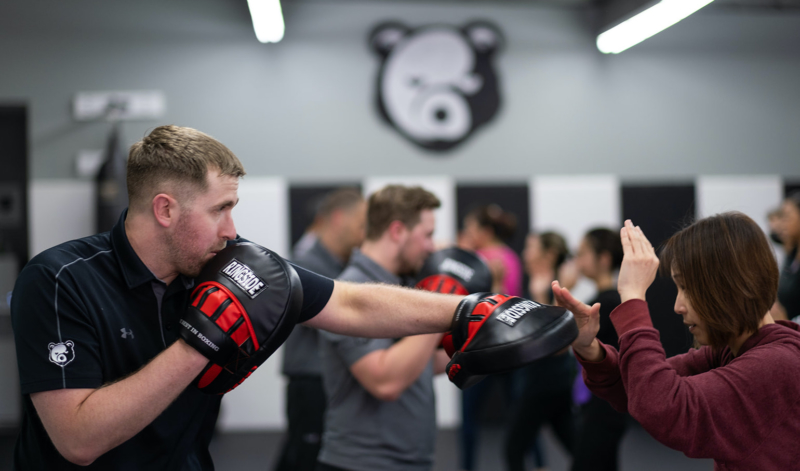 BEAR Self Preservation Systems (SPS) takes an objective approach to training an individual on how to preserve and enhance their quality of life. Through its Taekwondo, Martial Arts Fitness, and Self Preservation program, BEAR SPS takes a "3-dimensional" blend of various disciplines of Martial Arts and focuses on the use of the body's instinctual movements and gross motor skills to quickly and effectively create a Basic Efficient Active Response to any real-life scenario!
Growth through Confidence & Confidence through Experience!
"Decided to research private self-defense sessions in light of all the horrible racist attacks lately, and I couldn't recommend working with Ken more. 





It is so empowering, to use an overused word, just knowing that you can fight back. Ken has great expertise and a patient, clear communication style that I appreciate. Wanna fight? Learn to fight and protect yourself. We've been in 4 private sessions so far and have gotten better each time. 





Ken not only teaches you skills, but also situational awareness to avoid and be able to get out of danger."
"Our eldest started the Little Cubs TKD class a few months ago, and he's loving it! Back when we were looking for a TKD class, it was very difficult finding a place that had classes that fit into our schedule (both my husband and I work), but BEAR has classes on Saturday mornings in addition to weekday afternoons! Master Kenny was super patient and accommodating in answering all my questions. The classes are fun and also emphasize discipline. I'm very happy and proud of all the progress my son has made."
"I'm very proud to be a part of the Bear family.  Bear is a great place to train and has many different classes to offer.  Master Kenny brings a wealth of knowledge to his students and within his Tae Kwon Do curriculum he is able to expose them to aspects of many different martial arts' disciplines.  For those looking for something outside of martial arts training, Kenny offers several fitness classes that  change on a daily basis keeping both  your body and mind engaged and focused on your goals!"
"Such a great place for both kids and adults. Master Kenny goes above & beyond to help all of his students achieve their goals. The martial arts classes are so much more than your standard TKD class and his self defense class will prepare anyone for a difficult situation."
"I took Master Kenny's Self Defense classes in December and learned so much! I feel equipped and knowledgeable enough to handle any sticky situation I might find myself in. He is an amazing teacher who is passionate, well-informed, and personable. I definitely recommend these classes to anyone who wants to learn how to effectively defend themselves."
"Taekwondo/ Sparring/ Martial Art Defense/ Fitness, all in one place.  Fit for all age and gender. Great for family. A place where family can share healthy/ active life together."
"This martial arts school really sets itself apart in many ways.   First, it offers instruction in more than just one kind of martial arts, like TKD or karate.  This school offers classes that focus on TKD, fitness, and self-defense.  It's really great for a family where each member may want to focus on different things.   Second, it has a friendly and non-intimidating atmosphere that makes it suitable for people of all ages and fitness levels.  Third, the instructor will also tailor certain exercises and drills for you if you have specific injuries or physical limitations.  If you do other sports, the instructor will show you exercises to do to help enhance your performance and to protect yourself from injuries.  The facilities are also spacious and clean,  especially for a martial arts school.  This is place is definitely worth checking out whether you're looking for a place for your kid or a new place improve your fitness level."
NOT SURE WHERE TO START?
Picking the right program can be overwhelming. Let us help you!